Wolf Error Codes 08 – How to fix? by HoustonAuthorizedRepair.com
MODELS:
DF30 – DF36 – DF48 – DF60 DF30-3 – DF36-3 – DF48-3 – DF60-3 DF30-4 – DF36-4 – DF48-4 – DF60-4
MODEL FEATURES:
• Natural or LP gas rangetop with dual convection electric oven(s) • Small 18-inch oven on 48-inch dual fuel range is single convection • Stainless steel exterior finish • Platinum bezel surrounds all knobs, Chrome and Bronze optional • Option of Red or Black knobs • Dual stacked sealed 15,000 burners with automatic re-ignition at all settings • Dual stacked burners all have simmer capabilities • Melt feature on one 9,200 Btu burner • 11" or 22" 15,000 BTU (13,000 BTU – LP) Griddle with Infrared burner(s) and safety shut off system • 11" or 22" 16,000 BTU Charbroiler with Infrared burner(s) • 22" 15,000 BTU French Top burner with safety shutoff system • Continuous cast iron porcelain top grates • Pivoting touch control panel • Coaxial temperature displaying oven knob • Eight cooking modes • Bake Mode • Bake Stone Mode (30" and 36" cavities only) • Broil Mode • Convection Mode • Convection Bake Mode • Convection Broil Mode • Convection Roast Mode • Roast Mode • Proof Mode (18" only) • Self-cleaning oven(s) • Dehydration Feature • Proof Feature (30" and 36" cavity) • Delayed Start Feature • Probe Feature • Sabbath Feature • Spring/damper door system • Temperature probe • Full extension bottom rack • Hidden bake element • Oven door windows and dual halogen lighting • Blue porcelain oven interior • Adjustable stainless steel legs in front and adjustable rear casters • Optional Bake Stone • High altitude conversion kit available for units installed above 8,000 feet • Two and five year residential warranty • CSA certified for US and Canada
DIAGNOSTIC MODE:
• Diagnostic Mode allows the Service Technician to inspect the functionality of the Oven Controller and Relay boards. Entering a key combination on the display panel will allow the Service Technician to enter Diagnostic Mode. • In Diagnostic Mode the last seven errors that have occurred to the oven controlling all the relays on the relay board and controller feedback of temperature and switches will be displayed. • The Electronic Control Housing will display last error code recorded in the Cook Time digit area, with Stop Time digits displaying the number that the error was recorded, number 1 being the most recent. The software version will be displayed in the Time of Day digits and current oven cavity temperature will be shown in the display window of the Oven Temperature Control Knob.
INITIATING DIAGNOSTIC MODE:
To initiate Diagnostic Mode, oven control knob bezel must be in the OFF position. Now, press and hold CLOCK key and TIMER key for 3 seconds. (See Figure 3-60)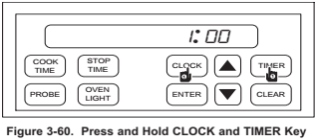 The ambient cavity temperature will be displayed in the temperature readout knob. Now, turn the oven temperature readout knob to the right seven separate times, this will toggle from error code 1 thru 7. (See Figure 3-62)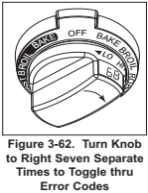 To return to error code number one, turn oven temperature readout knob to the left seven separate times. (See Figure 3-63)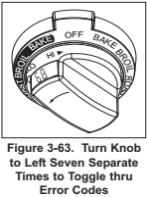 The software version will be displayed in the hours and minutes display of the clock. (See Figure 3-64)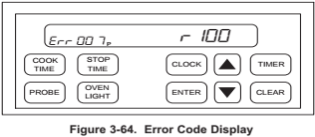 NOTE:
• Once diagnostic mode is entered, there is a 2 minute time out, which is restarted each time a key is pressed. • To clear error codes once unit has been fixed, press the CLEAR key. • To exit Diagnostic Mode, press the ENTER key.
ERROR INDICATORS:
Error codes can give a visual and audible alarm. The visual indication will be "Err" displayed in the Cook Time digits and the number or letter of the error code will be displayed in the Stop Time digits of the Electronic Control Housing. The Oven Temperature Readout Knob will also show "Err" in the display window. The last seven errors will be stored in the EEPROM for recall when in diagnostic mode.
ERROR CODES:
| | | |
| --- | --- | --- |
| ERROR CODE | POSSIBLE CAUSE | TEST / ACTION |
| 8 | EEPROM checksum is incorrect. Checked at power up | Replace oven controller. |