THERMADOR Error Code Blank Display – How to fix? by HoustonAuthorizedRepair.com
THERMADOR Range/Stove/Oven Fault Codes starting with an F – How to fix? by HoustonAuthorizedRepair.com
THERMADOR Error Code Blank Display
Professional Ranges Models: PDR30/36/48…PRG30/36/48
| | | |
| --- | --- | --- |
| ERROR CODE | DESCRIPTION | RESOLUTION |
| CODE Blank Display | No power to electronic range control (also called clock or ERC). Check oven light and cooktop dial lights (powered by L2 & L1, respectively). Check relay board transformer primary, E1 to E2 (140 ohms typical). If the transformer internal fuse is still OK, check output voltages, pins 9 – 8 (3.2 V.A.C.) and 7 – 6 (21 V.A.C.). Check clock functions after replacing relay board | If relay board transformer open (E1 to E2), replace relay board. If still no clock functions repair electronic range control (also called clock or ERC) |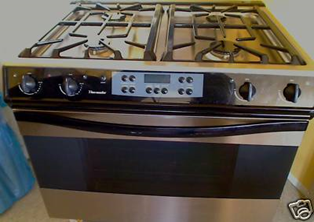 The control continuously monitors system parameters for control and oven failures and reports a fault code when a system problem is detected. The control utilizes the ovens blue "on light" and oven "heating light" to report a detected fault code. The control will continue to flash the lights in the appropriate sequence as long as the fault exists.
Detection of a fault does not hinder the ability of the control to continue to function if the fault is not critical for the intended operation. For example: If the range door latch is inoperative, the range will continue to cook since the fault would only prevent the range from self-cleaning.
HOW TO INTERPRET CODES
When a fault occurs, the control will flash the blue oven "on light" and the Blue "heating light" sequentially to indicate the fault. The fault codes have two numbers, these numbers are interpreted by the number of times the lights flash. The oven "on light" will flash indicating the first number, and the "heating light" will flash indicating the second number.
EXAMPLE:
Error E9 is…. No Cooling Fans. The code is 43. The oven "on light" will flash four times, then the "heating light" will flash three times, then pause. The sequence will then repeat as long as the fault is present.
ERROR CODES FOR OVENS WITH DREEFS CONTROL
The following chart shows the error codes that can be displayed in the Oven/Selector window during specific oven malfunctions. Some of the error messages can be cleared by performing the following steps:
1.Turn the selector knob to OFF
2."Tweak" the oven by turning the selector knob slightly to the left (counterclockwise). This may stop the flashing message/beeping and clear the window.
3.For errors E1, E9, E11, E12 and E13, the power supply going to the even must be turned off momentarily, and back on again.
4.If an error remains displayed when the selector switch is OFF, and after attempting to clear the display, as shown in steps 2 and 3, turn off the power going to the oven, and refer to the chart below to help you find the problem.
| | | |
| --- | --- | --- |
| ERROR CODE | NOTE | CHECK REPAIR |
| F0 | Internal logic failure; cancel key supervision. Sounds alarm and resets to non-cook mode | Replace the electronic range control (also called clock or ERC) |
| F1 | Internal logic failure (monitoring function). Sounds alarm and inhibits cook modes | Replace the electronic range control (also called clock or ERC) |
| F2 | Temperature runaway detected (Bake/Broil: 600 – 700 F; Clean: 930 – 1000 degrees F). Sounds alarm and resets to non-cook mode. Check relay board for stuck contacts. Check oven temperature sensor for normal room temperature resistance (1085-1097 ohms at 75 degrees F). Check sensor wiring connectors for a loose or high resistance connection. Check electronic range control (also called clock or ERC) functions | Replace relay board if necessary. Replace oven temperature sensor if other components check normal. If failure repeats, replace electronic range control (also called clock or ERC) |
| F3 | Open circuit detected; oven temperature sensor. Check sensor for normal room temperature resistance (1085-1097 ohms at 75 degrees F). Check wires and connections between electronic range control (also called clock or ERC) and oven temperature sensor | Replace sensor if other components check normal. Replace electronic range control (also called clock or ERC) if fail code reoccurs |
| F4 | Short circuit detected; oven temperature sensor. Check sensor for normal room temperature resistance (1085-1097 ohms at 75 degrees F). Check wires between electronic range control (also called clock or ERC) and sensor. | Replace sensor if other components check normal. Replace electronic range control (also called clock or ERC) if fail code reoccurs |
| F7 | Function key shorted for over 16 seconds. Check for something pressing a key or preventing normal release of the key | Replace electronic range control (also called clock or ERC) if other components check normal |
| F8 | Internal logic failure; calibration. Alarm sounds and resets to non-cook mode. Check oven temperature sensor for normal room temperature resistance (1085-1097 ohms at 75 F). Check wires and connections between electronic range control (also called clock or ERC) and oven temperature sensor | Replace electronic range control (also called clock or ERC) and oven temperature sensor if other components check normal |
| F9 | Internal logic ailure; door latch supervision. Alarm sounds and resets to non-cook mode. If door is locked due to clean temperatures, disconnect power until door can be unlocked | Replace the electronic range control (also called clock or ERC) |
| Fd | Bake & Broil relay drives active simultaneously. Check relay board for damage: trace E6 to K2 & K3, and burned contacts K3 & K3 | Replace electronic range control (also called clock or ERC). Replace relay board if necessary |
| Blank Display | No power to lectronic range control (also called clock or ERC). Check oven light and cooktop dial lights (powered by L2 & L1, respectively). Check relay board transformer primary, E1 to E2 (140 ohms typical). If the transformer internal fuse is still OK, check output voltages, pins 9 – 8 (3.2 v.a.c.) and 7 – 6 (21 v.a.c.). Check clock functions after replacing relay board | If relay board transformer open (E1 to E2), replace relay board. If still no clock functions replace electronic range control (also called clock or ERC) |
| | |
| --- | --- |
| ERROR CODE | NOTES |
| A | Turns heat off on the failed oven only; microwave not affected. |
| B | Turns all heat off; microwave not affected. |
| C | Disables the CLEAN mode in both ovens; allows COOK and microwave. |
| D | Error will remain in the display until oven is repaired and powered back up. No error tones. |
| E | Turning the oven off stops the error and flashing display. Can tweak away the error code. Error is redisplayed only if the selector is turned to CLEAN. |
| F | Tweaking clears to "—" for retry. |
| G | Clears when the oven temperature is less then the runaway temperature with the selector switch off. |
| H | Can be cancelled by tweaking if a good sensor is detected. |
| I | Cleared with a mode change. |
| J | Can be tweaked away for immediate retry. User must unlatch and delete the "—" to try to relatch the door. |
| K | Turns heat and microwave off. |
| L | If two switches show a locked door, then E13 and LOCK are permanent in the display (in all modes). If the two switches show an open door, tweak away the E13 error message. |